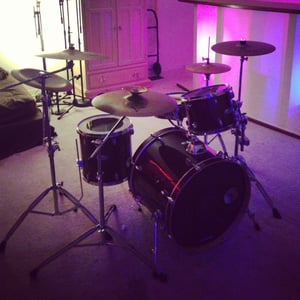 $

16.00
Mapex Meridian Birch Series Kit:
Mapex Website Specs
7 samples for the price of 4!
Kick 20x19"
Piccolo Snare 14x4"
Rack Tom 10x12"
Floor Tom 14x14"
DW Custom 14'
Ludwig Element 14
Pearl Masters 14"
All Snares have 5 velocity layers, Kick and Toms have 3
Comes in Processed AND Raw versions
With Monolith NKI, GOG and TCI files!
Microphones Used:
AKG, Electro-Voice, Schoepes, Sennheiser, Earthworks, Gefel and Nuemann
Preamps Used: Earthworks, Vintech, Helios, Millennia, Shadow Hills, Chandler into an API 7800 Summing and Master Module.
Examples:
Snare Examples:
RAW DW Snare Example
RAW Ludwig Example
RAW Pearl Example
RAW Ritch Piccolo Example
NKI Information:
Hard: 100-127
Med: 60-99
Soft: 1-59
Kick - C1
Snares - D1
Rack Tom - F2
Floor Tom - E2
Snare side stick - D#1
Side stick B - E1 (Ludwig Element Series Only)
Snare velocities:
Slam: 100-127
Hard: 80-99
Med: 60-79
Soft: 1-59